Supercharge your Load Control
with automated digital workflow
Procure aircraft load and trim sheets with no effort
We are very satisfied with the software and services that Evionica provides us with. Evionica trained 50 stations within 30 days and it took less than 3 months to deploy the system within the entire route network.
Maciej Zochowski
Regional Ground Operations Manager at Wizz Air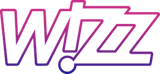 Short turnaround time?
Quick turn-around booster!
Adaptive interface
A modular approach enables Evionica software to tune the workflow of the app to your airline's Ground Handling procedure—a simple, even simplistic interface requiring minimum interactions. Unambiguous workflow, customized for your particular procedure, guarantees the highest level of compliance and reduces labor with no redundant input or interaction.
Low-learning curve
Onboarding new Controllers takes less than 60 minutes! Including training and certification. The online format's flexibility saves time while maintaining the highest level of compliance.
Ease of deployment
Evionica's cloud-based solutions leverage modern web technology to simplify its deployment. It does not require any installation—can run on any device (PC/Mac, tablet, smartphone) with a modern web browser (Edge, Chrome, Safari, Firefox, etc.) Station's IT administrators' support is NOT necessary—no installation is required!
Going #paperless?
Digital LI/R
Digitize the Load Distribution reconciliation and close the loop for a completely paperless process. The app enables the Loadmaster to fully participate in the digital process using software optimized to her needs. It facilitates an effortless review of Loading Instructions.
Reporting with the app does not limit to confirming the values from LI. It allows feedback with actual numbers that the system will instantly validate and apply to the computation adjusting the distribution and assuring the coherence of the Final Loadsheet with the actual loading state of the aircraft.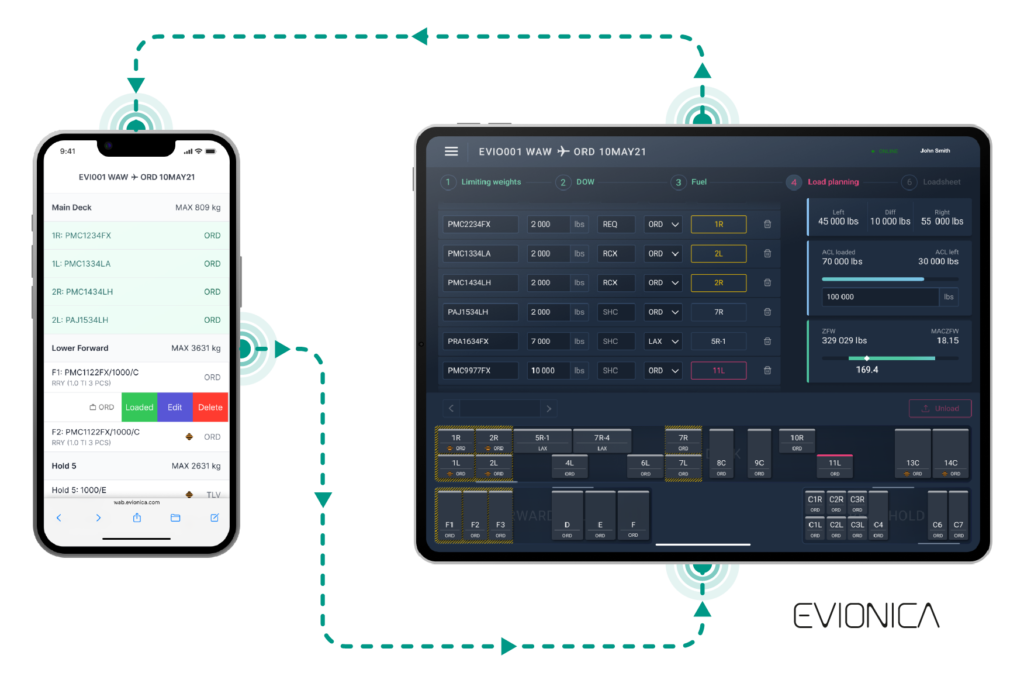 The future is now!
Zero-click loadsheet
Complete integration with third-party systems (data providers: Flight planning/scheduling, Departure Control System—DCS, Electronic Flight Bag—EFB) enables a great level of automation. Over 80% of Final Load and Trim sheets can be procured autonomously. No Load Controller / Dispatcher effort is required:
One Load Controller can handle more flights simultaneously

or better focus on real-life events enhancing compliance and safety.
Scale your operation up without ballooning your workforce. Stop worrying about the staffing and accreditation expenses of the team.
To learn more read the case study

This project has received funding from the European Union's Smart Growth Operational Programme 2014-2020; under grant agreement number POIR.01.01.01-00-0137/22-00. Learn more
Features




fitting your airline's size

Starter

Growth

Elite

Number of operations per month


Minimum take-offs (actual or declared) per month

400+
4 000+
10 000+

C

entralized fleet

configuration


Managed by Evionica's aeronautical engineers

✅
✅
✅
Online user onboarding program


Certification process included

✅
✅
✅
24/7 support


with a short reaction time

✅
✅
✅

Load and

trim sheets

calculator


Quickest on the market



✅
✅
✅
Offline mode


with a short reaction time

✅
✅
✅

Digital

LI/R
Review and report loading with
a dedicated mobile app for Ramp Agent
✅
✅
✅
Digital Loadsheet
Review and accept loadsheet, report fuel figures,
with a dedicated mobile app for PiC
✅
✅
✅
Address book


for easy documents dissemination

✅
✅
✅
Unlimited stations


Self-managed

✅
✅
✅
Unlimited users


Self-managed



✅
✅
✅
Automatic load distribution


According to your airline's preferred loading sequence

✅
✅
Workflow optimized


Customized for your airline's procedure—great UX with no redundant input or interaction!



✅
✅
Integrations


Flight schedule, DCS, EFB

1
3
Dedicated cloud infrastructure


Hosted in your region (AWS Global Infrastructure)

✅
✅
99.99% measured uptime


High availability

✅
✅
Custom features development


included in the price

✅

Zero-click loadsheet




(i.e., autonomous load control)

✅
Get in touch
Let's discuss how Evionica might enhance your turn-around and OTP (on-time performance)
Not a passenger airline?
We have a solution for you:
Cargo airline
Challenging freight? P2F fleet?
Remote destinations with no Internet connection?
We've got you covered!

Ground Handling and CLCs
Struggling with OTP? Or maybe with compliance?
Handling diverse airlines with complex fleet configurations?
Equip your team with the best tools on the market!