Diamond Aircraft and Evionica join forces for Smart Aircraft Experience partnership program
Diamond Aircraft proudly announces that Evionica will become a partner for the Diamond Smart Aircraft Experience program. Evionica, an innovative flight training, and operations software provider, and Diamond Aircraft are teaming up to improve General Aviation and bring the Diamond Training Experience to a new level.
The Diamond Smart Aircraft Experience initiative aims to deliver certified distance learning solutions and flight training as well as CAMO management software to Diamond private owners and flight training organizations. Currently, Evionica is offering computer-based training for the DA42-VI, DA42 TDI, DA40 NG and DA40 TDI. These e-learning platforms are also used by Diamond Aircraft's long-term customers, such as Lufthansa Aviation Training.

With Evionica we are sharing the same attention to detail with cutting-edge technology. We are happy to have found such a trusted partner to expand our services with professional customized training software and e-learning support. Diamond is always having the pilot in mind and the Diamond Smart Aircraft Experience is another successful way how to serve our customer's needs. A true 21st century training service improvement and another enhancement for our complete flight training solution.


Amila Spiegel, Global Director Marketing, Diamond Aircraft Austria

As Diamond and Evionica share unlimited passion for performance, efficiency and safety, together we want to empower aviation enthusiasts, pilots and training organizations by providing the next generation e-learning experience and technology advanced training solutions. Our goal is to invest in a safer aviation, in which aircraft, training organisations and pilots become one powerful and agile ecosystem. We believe that with Diamond Aircraft we can have real impact and improve aviation together.


Mateusz Godun, CEO of Evionica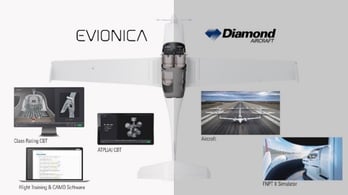 The Diamond Smart Aircraft Experience is an all-in-one, scalable and comprehensive computer-based training program enabling customers to fully experience the Diamond Aircraft types DA42-VI, DA42 TDI, DA40 NG and DA40 TDI. Evionica brings demonstrated software know-how, with the experience and proven expertise in e-learning solutions, providing Class Rating CBT for DA40 and DA42, the next-generation e-learning ATPL(A) CBT, Flight Training, and CAMO Management Software. Together, Diamond Aircraft and Evionica, will provide Diamond customers a package of aircraft type-specific e-training solutions for a comprehensive experience in aircraft training and certification support.
For more information on the Diamond Smart Aircraft Experience, please click here.
ABOUT DIAMOND AIRCRAFT

Diamond Aircraft, headquartered in Austria with facilities in Canada and China, is amongst the leading aircraft manufacturer in General Aviation. Founded in 1981, Diamond has pioneered many aviation firsts and achieved numerous milestones and industry expert accolades. Today, Diamond Aircraft has more than 1,000 employees worldwide and offers the most complete range of certified piston aircraft models: from the 2 seat single DA20 to the stunning 7 seat DA62. With its complete line of piston aircraft including a dedicated flight training concept with Single Engine Piston (DA40 NG) and Multi Engine Piston (DA42-VI) trainers, along with type-specific flight training simulators and proprietary engines, Diamond Aircraft is the only sole source provider in the fleet training market. Diamond Aircraft also made a footprint in the special mission market with the remote sensing turnkey solutions DA42 MPP and DA62 MPP and the soon-to-be certified aerobatic turboprop tandem trainer series DART. Diamond Aircraft uses proprietary lead-free jet fuel piston engines, made by Austro Engine GmbH (a 100% subsidiary of Diamond Aircraft Austria), for the DA40, DA42, and DA62. Every one of Diamond's aircraft shares a common DNA, incorporating leading-edge technology, not for the sake of innovation, but for superior performance, efficiency, and safety. Over 5,500 Diamond airplanes are flown by private pilots, professional flight training operators, and institutions worldwide.
For more information, visit Diamond's newsroom at www.diamondaircraft.com/en/about-diamond/newsroom, contact the Media Relations department at media@diamondaircraft.com, or follow us at:
ABOUT EVIONICA
Evionica delivers next-generation e-learning (CBT) and technologically advanced business solutions to improve the aviation industry. Our team of aviation experts provides a wide range of distance learning courses (ATPL, type rating, class rating) in line with EASA regulations and rules, as well as Weight&Balance services for ground operations. We are proud to be partners with Wizz Air, Lufthansa Aviation Training, LOT Polish Airlines, and Gulf Aviation Academy. We work together with customers around the world to increase profitability, maximize training performance and support future pilots in rewarding careers.
For more information, visit: www.evionica.com and follow @evionica on social media.