Flexibility from a modular approach to Weight and Balance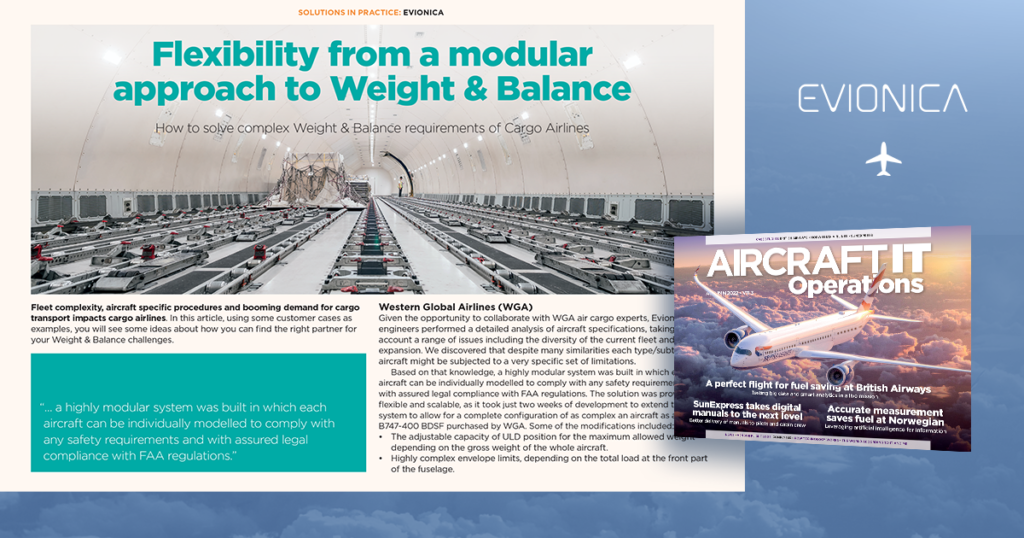 Fleet complexity, aircraft-specific procedures, and booming demand for cargo transport impact cargo airlines. In a recent article published by Aircraft IT, you will find some ideas about how cargo airlines can find the right partner for their Weight & Balance challenges.
In the section How Technology Works: Modular Weight & Balance, you will find out case studies from the implementation of Evionica's Weight & Balance solution by Western Global Airlines, Wizz Air, and Global Crossing Airlines.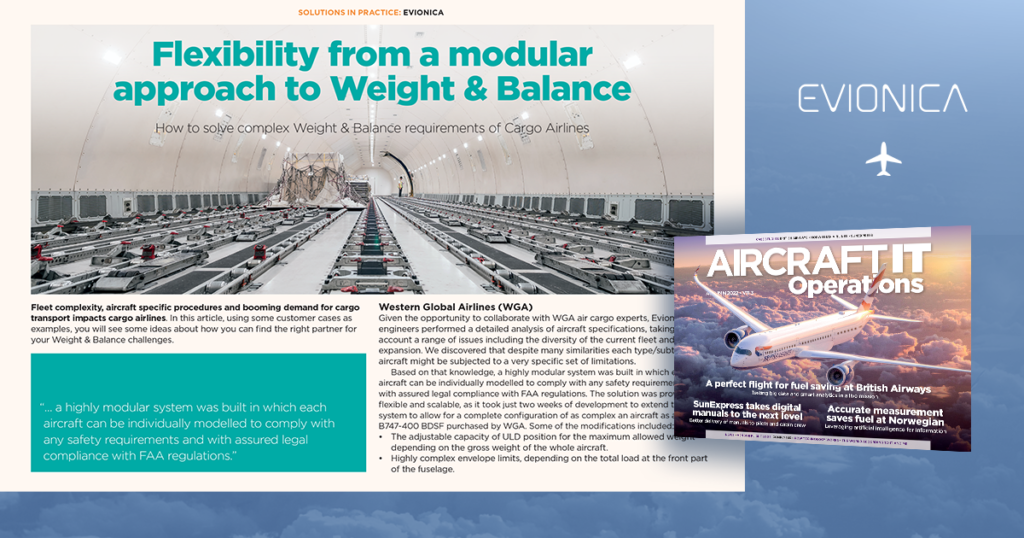 Western Global Airlines (WGA) – case study
Given the opportunity to collaborate with Western Global Airlines air cargo experts, Evionica engineers performed a detailed analysis of aircraft specifications, taking into account a range of issues including the diversity of the current fleet and its future expansion. We discovered that despite many similarities each type/subtype of aircraft might be subjected to a very specific set of limitations.
Based on that knowledge, a highly modular system was built with which each aircraft can be individually modeled to comply with any safety requirements and with assured legal compliance with FAA regulations.
The solution was proven to be flexible and scalable, as it took two weeks of development to extend the system to allow for a complete configuration of as complex an aircraft as a B747-400 BDSF purchased by Western Global Airlines.
Some of the modifications included:
The adjustable capacity of the ULD position for the maximum allowed weight depends on the gross weight of the whole aircraft.
Highly complex envelope limits, depending on the total load at the front part of the fuselage.
Evionica is a trusted and reliable partner. We were impressed with their ability to digitalize the Weight & Balance process for our diverse fleet of MD11s. Overall, the time to market of new features and customer care is impressive. Our fleet will be extended by new Boeing 777s and through Evionica we have overall more precise calculations allowing an increased level of safety, process efficiency, and aircraft payload utilization.

Chad David, Director of Planning and Ground Operations at Western Global Airlines
Global Crossing Airlines – case study
The modular approach allows the modeling of an aircraft independent of its subtype and the type of mission it performs. That was the ideal fit when Global Crossing Airlines was looking for a solution for their brand-new A321P2F/PCF converted freighters.
It was necessary to individually configure both converted aircraft types into the application, with the set-up for the environment being completed in just one month from signing the agreement.
The technology implemented into this application exceeded my expectations as to what a robust Weight & Balance system should be. After a detailed demonstration, it was clear that Evionica's Weight & Balance solution would be the right fit for our new A321P2F/PCF cargo operations. The onboarding process was smooth and Evionica's team of highly competent professionals managed the process seamlessly. Working directly with Evionica's development team, we are certain that our cargo operations safety and efficiency will be enhanced

Varun Nandlal, Vice President Cargo & Security at Global Crossing Airlines.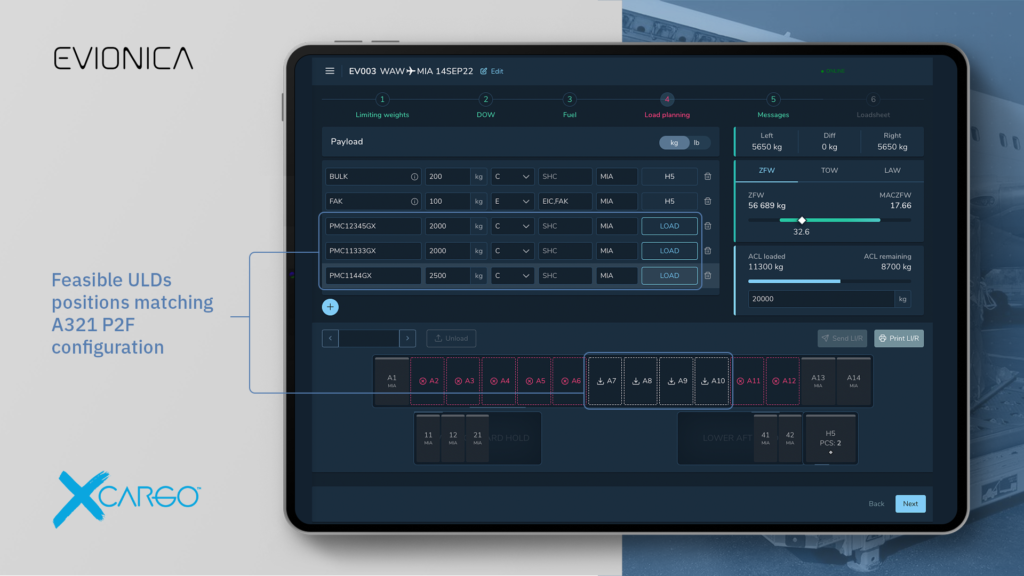 Wizz Air cargo operations – case study
Evionica, having a comprehensive approach to the load planning process, was very pleased to start a collaboration with Wizz Air cargo this year. The effect of the collaboration was the expansion of the load planning tool to include a module verifying the distribution of special loads, including dangerous goods, to assure safe and efficient CLC operation.
It took us 3 months from initial analysis to real-time validation and prevention from loading the conflicting goods without preserving a minimum separation distance.
For Wizz Air, Europe's fastest growing and greenest airline, the safe and efficient load planning process that matches the business challenges is very important. What we value in Evionica as a partner is a competent team, and customized approach to meet our specific needs as well as the shortest delivery times for new features matching improving safety.

Balazs Acsai, Cargo Operations Manager at Wizz Air Hungary
Summary
Overall Evionica provides to partners:
Shortest delivery times for new functionalities matching business needs
Consulting by aviation experts
Smart Weight and Balance process coverage involving stakeholders Cockpit, Ramp and Loadcontrol
Visual & Interactive load distribution
Seamless updates
A reliable solution as the internet is not required to perform calculations
The freighter market is developing quickly and we have welcomed two Passenger to Freighter converted airline operators just within the last six months. Our asset is our team delivering state-of-the-art solutions for our Cargo and Passenger Airlines. If you balance your aircraft through local ground handling, Centralized Load Control, Pilots, Loadmaster or even hybrid, we have you covered and we're looking forward to future Partnerships.

concluded Mateusz Godun, CEO at Evionica.
ABOUT WESTERN GLOBAL AIRLINES
Western Global Airlines is an American cargo airline based in Estero, Florida. The company's services include ACMI charters, commercial charters, and military charters. Their main hub is located at Southwest Florida International Airport in Fort Myers, Florida. Flying to over 400 cities in 135 countries on six continents, the fleet includes the McDonnell Douglas MD-11F and Boeing 747-400 freighters. New additions to the fleet will be Boeing 777 Freighters currently on order
ABOUT WIZZ AIR
Wizz Air, Europe's fastest-growing and greenest airline, offers passenger flights to over 170 Destinations in 47 countries. It operates a modern fleet of 135 Airbus A320-family aircraft with an average age of five years. Wizz Air is constantly looking to expand its network of routes and make air transport more accessible including, this year, commencing operations at its new base in Abu Dhabi, the capital city of the United Arab Emirates.
ABOUT GLOBAL CROSSING AIRLINES
Global Crossing Airlines is a US 121 domestic flag and supplemental airline flying the Airbus A320 family aircraft. GlobalX flies as an ACMI and wet-lease charter airline serving the US, Caribbean, and Latin American markets.
ABOUT EVIONICA
Evionica delivers intelligent solutions to improve the operations of companies in the aviation industry. Its offers features the Weight & Balance software solution, as well as a range of Computer-Based Training (CBT) courses to enhance the pilot training process. Evionica provides its services on all continents for clients such as Wizz Air, Western Global Airlines, Global Crossing Airlines, SmartLynx, LOT Polish Airlines, Lufthansa Aviation Training, and Gulf Aviation Academy, to name a few.