Innovation through immersion: introducing students to the plane with our 360 Simulation
Evionica aims to deliver the highest quality e-learning for the aviation market and bring pilot training to a new level. Our pilot experts and aeronautical engineers create next generation courses to let students experience flight operations in a realistic way.
---
---
A modern approach based on interactive slides and elements in our online courses introduces students to the airplane in a tangible way. This flexible and user-friendly way of learning is appreciated by students, instructors, and training organizations.
---
The 360 cockpit procedures will be available in our upcoming TR course for Boeing 737 NG and MAX.
---
---
Enter the cockpit with next generation online pilot course
---
You will face many challenges on your path to becoming a pilot – our theoretical courses are packed with essential knowledge that is required before the start of the practical flight training. But theory alone does not always give you the clearest picture of the subject at hand. Reading the Aircraft's Flight Manual is essential prior to flying the aircraft, but familiarizing yourself with the actual aircraft visually is vital so you know what to expect when you enter the cockpit before you actually set foot in the cockpit.
---
---
Effective pilot training through interactive content
---
Evionica's aviation courses are developed by pilots, for pilots – we understand the weak points of traditional pilot training as we have faced them ourselves. Our CBT ensures the best knowledge transfer and helps to focus on studying and memorizing educational material. In comparison to traditional theoretical courses, highly interactive e-learning makes the studying process easier and more effective. We aim to share information in a visually attractive way to engage students and help them master the knowledge.
---
---
Aviation course with 360 Simulation
---
Familiarization with the aircraft by using a printed cockpit layout is one way to achieve that, but our 360 cockpit procedures will take your old school mockup training to the next level – you can now master every flow by completing the items included in the checklist through an interaction with the actual airplane – this will allow you to understand the function of every switch and pushbutton, as well as all the aircraft systems that you will face in your training. The 360 cockpit procedures will be available in our upcoming TR course for Boeing 737 NG and MAX.
From cold and dark to ready to taxi? Not a problem – save your time and be perfectly prepared for your next simulator training session.
---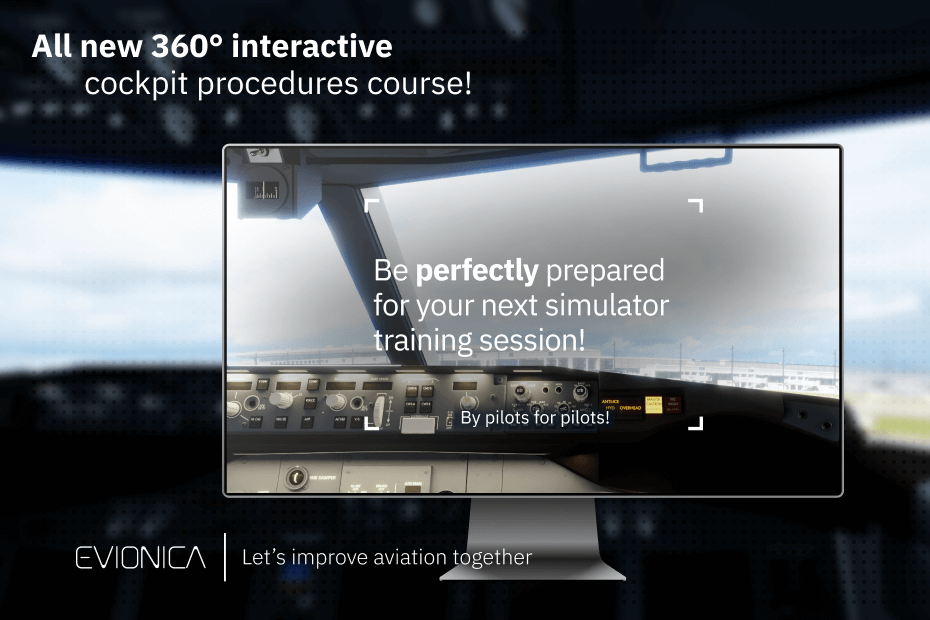 ---
Get the best Flight School's Training Package Now
Complex Flight Training from 0 to ATPL(A)
Create your package