Courses for pilots created with a client-centered approach
Evionica's approach to creating CBT courses is client-centered and focuses on clients' feedback. Our aviation experts not only build modules while abiding by EASA and other respective authority's rules and regulations but also to accommodate client preferences.
---
---
---
Flexible pilot training adjusted to the user
---
Regulations are checked, requirements specified, POC developed, feedback received, modules revised, and released on LMS. With strong client involvement in the entire process, specific learning needs are incorporated into our modules. We are adaptive in responding to the needs of each individual client. Thanks to a flexible and agile way of working, we can dynamically develop our products.
"We want to provide a unique opportunity to foreign students in France, allowing them to study and gain PPL(A) license in English. With such a trusted partner like Evionica, we are not only offering an unrivaled proposal, but we also ensure the highest quality of training for our international customers.''

Paris Flight Academy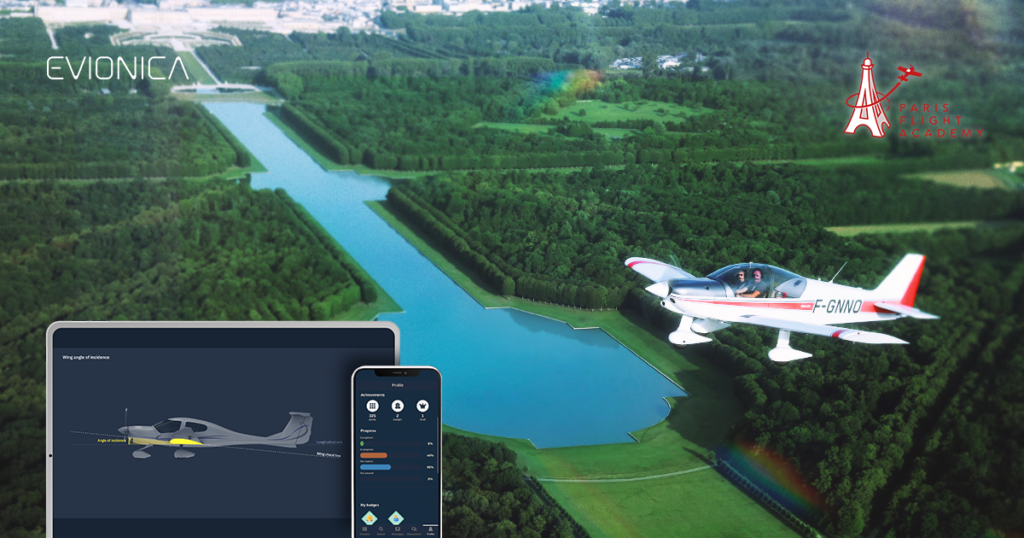 ---
Interactive aviation courses for student pilots
---
CBT pilot courses full of interactive content bring the best out of future pilots. This way of learning boosts their engagement by encompassing a wide range of procedures, system familiarization, and walkarounds, that replicate the real world through scenario questions and simulations. Future pilots can better grasp the module's main objective and master tough topics.
---
---
Pilot courses with realistic animations
---
Animation-based learning follows the latest studies of the human mind and its ability to absorb information. We rely heavily on realistic animations to improve the efficiency of the process in which we pass knowledge to future pilots. Our experts make abstract concepts palpable by creating animations that help visualize complex concepts, alleviating pressure on future pilots' imaginations.
"Evionica's e-learning courses best meet our needs and help us to support ATPL training with an advanced training experience. Interactive slides and realistic animations strengthen students' engagement and help them master the knowledge maximizing training performance."

Sevenair Academy
---
---
Constant feedback improves aviation e-learning
---
Evionica is continuously open to user feedback, it is the fuel to our engines. We develop our products based on the client's opinion and a user-centered approach is a procedure deeply rooted in our culture. Evaluation of the level of satisfaction with our solutions and the customer's experience supports us in the product development process. Users' suggestions are an invaluable tool to adjust our products to fit their needs. We care a great deal that our customers have positive impressions – their recommendations are proof that we are moving in the right direction.
"Evionica's e-learning course for ATPL(A) excellent fits our vision of innovative flight training. We like its modern and digital approach to teaching–the way theory is explained and the interactive content with realistic animations which helps students to improve their learning progress and keep their attention. We are aware that pilot students appreciate a flexible way of distance training–any time, on any device with online and offline access."

Prince Aviation
---
---
Get the best Flight School's Training Package Now
Complex Flight Training from 0 to ATPL(A)
Create your package