Evionica provides ATPL(A) online course for Quality Fly Academy!
Quality Fly Academy is a Spanish training organization offering a full set of pilot training courses up to CPL(A) and ATPL(A) licenses. This flight school provides students with the most innovative and complete training, designed to achieve the highest pilot technical and soft skills. Evionica is proud that our ATPL(A) e-learning course is a complementary part of successful flight training at Quality Fly.
---
quality fly Academy
atplA(A)
e-learning courses
---
Spanish flight school provides future airline students with Evionica's ATPL(A) e-learning courses. Our distance learning designed by pilot experts gives more flexibility and better learning results. Students can experience a modern way of learning on an advanced LMS Platform.
---
---
Quality Fly provides students with Evionica's next generation e-learning for ATPL(A) license! We combine our innovative approach to pilot training and offer our students a modern and flexible way of learning. Students can experience online learning at any time and place on any device (mobile, tablet and desktop). We are aware that distance learning gives more flexibility and better learning results. Quality Fly Academy
---
---
The state-of-the-art ATPL(A) CBT with advanced LMS Platform empowers instructors and students. The ATPL(A) CBT is available both for Training Organizations and individual Pilot students with an attractive business model.
---
---
How do students benefit from Evionica's ATPL(A) e-learning course? 
---
Flexibility – learning online & offline at any place and time
LMS Platform with tracking progress and access on all devices (mobile, tablet, desktop)
Interactive content full of visually attractive slides, animations, and gamification elements
English as a second language – easy to understand and memorize 
Up-to-date syllabus, under EASA regulation and the latest 100 KSA requirements
Realistic graphics and natural lector voice
Questions bank with training records, logs and test results
Communication tool for student & instructor
---
---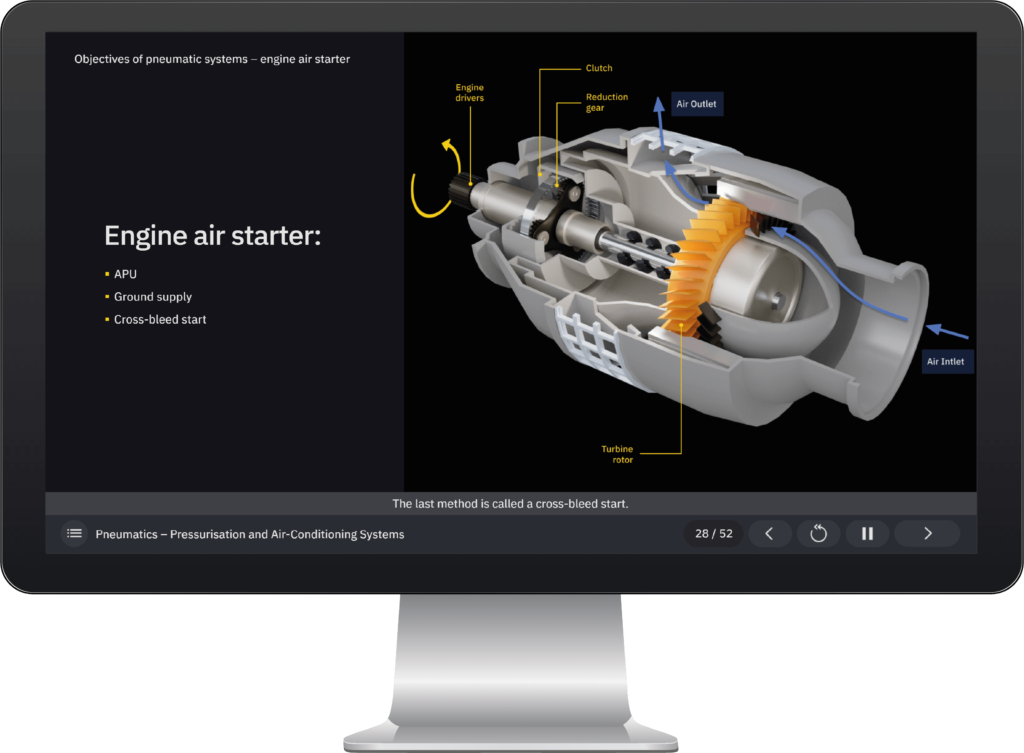 ---
Evionica offers a complex training package for flight schools, created in line with training standards and EASA regulations, containing over 50 e-learning courses required for PPL(A), CPL(A), and ATPL(A) licenses, including Theory CBT, Class Rating, Type Rating and General Subject courses, which brings a new standard to e-learning market.
---
ABOUT QUALITY FLY
Quality Fly is a flight academy based in Cuatro-Vientos airport, Madrid. The academy holds a highly international profile with 100% English training and students of more than 35 different nationalities. Quality Fly is committed to operational perfection with a brand-new fleet, professional management, fully digital processes and effective systems, allowing the school to offer high quality training while maintaining a highly competitive price. The fleet comprises new generation aircraft with glass cockpit for high efficiency and maximum safety.
ABOUT EVIONICA
Evionica delivers intelligent solutions to improve the operations of companies in the aviation industry. It offers features software for Weight & Balance calculations, as well as a range of systems to enhance the pilot training process. Evionica provides its services on all continents for clients such as Wizz Air, Lufthansa Aviation Training, LOT Polish Airlines, and Gulf Aviation Academy.
Get the best Flight School's Training Package Now
Complex Flight Training from 0 to ATPL(A)
Create your package