Master the pre-flight check with our new 3D experience
Evionica's e-learning pilot courses contain many interactive elements, including slides, animations, 2D and 3D graphics, and videos. We present content in a realistic and user-friendly way to help students experience real aircraft and prepare them better for flying. Evionica's experts continuously improve our aviation courses by adding new elements and methods of presenting knowledge.
---
We extend content with interactive walkarounds in our new e-learning. This operation is made by a pilot before take-off to ensure that the aircraft is ready for a safe flight. Walkaround as a part of our courses will prepare and introduce future pilots to this procedure.
---
---
---
Walkaround and pre-flight inspection check in upcoming aviation courses
---
What is the most enjoyable thing to do before a flight? Most would say, "Walkaround!". As pleasant as it is, a walkaround check is of prime importance to flight safety and needs to be performed with utmost diligence. It goes without saying that the bigger the plane, the bigger the challenge and responsibility! What makes a good walkaround? As with most things, preparation is key. It starts when we learn the procedures from documentation, long before we even see the plane in question. However, once brought to an airfield, we discover that not everything is as clean-cut; the manufacturer shuffled things around and we weren't even sure what some of these elements looked like in the first place.
---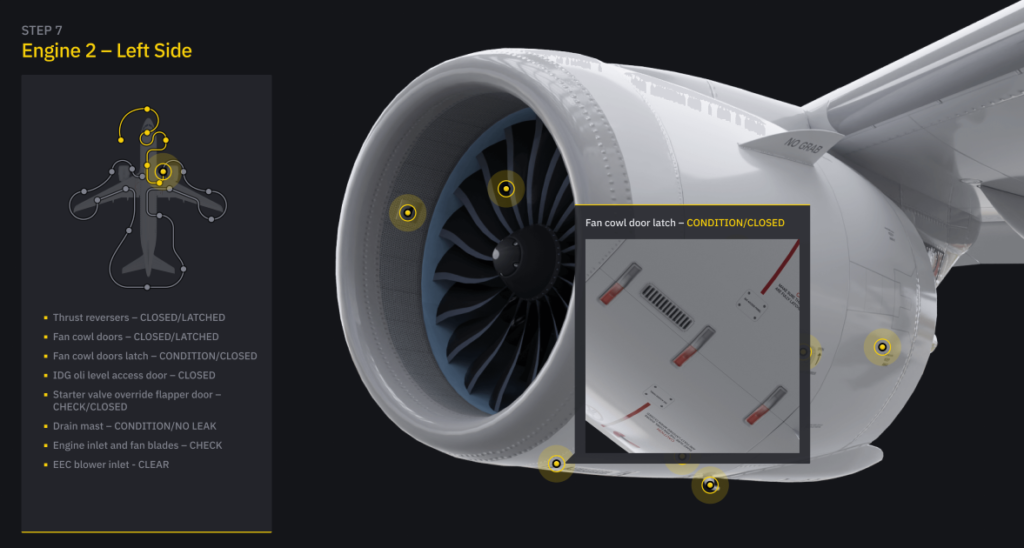 ---
Pilot online courses with a new approach to learning procedures
---
Evionica tackles these areas by introducing a new approach to learning procedures. Thanks to an interactive walkaround, the pilot will easily locate any given element and have a chance to zoom in on each instrument one by one. Pulsating markers will indicate the areas every step of the way. In addition, our interactive checklist will also prompt matching information in the same way, transforming a static index into a fully-fledged learning experience.
---
---
---
---
Check out CBT courses for Airlines dedicated to current and future pilots:
---
---