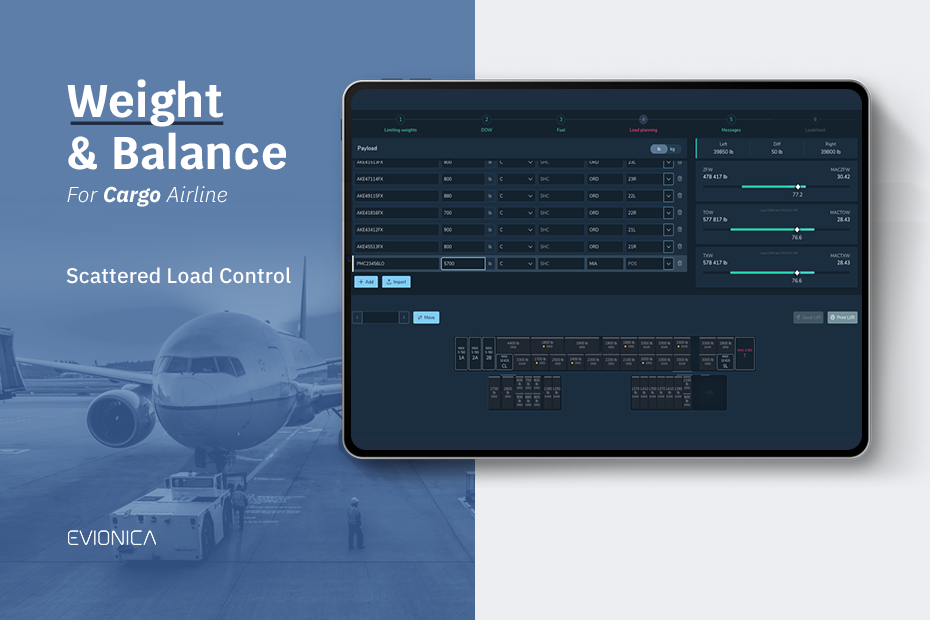 Cargo operations are usually challenging. In many cases, they require the loadmaster to travel with the aircraft to supervise the loading and offloading process. Is it possible to optimize the cargo loading process? For sure, Evionica offers a tool that can make it way more resilient.
When on-site, the loadmaster is involved in a variety of tasks and they work with miscellaneous documents to gather all data required to prepare the load plan. Besides the cargo itself, they must take into account the effect of fuel and sometimes even keep up with the limitations included in flight plans. The job requires a constant exchange of information and seamless collaboration with both the flight deck crew and the ground staff. The turnover time is strictly limited and in case of a long flight to pick up the cargo, the loadmaster is usually stuck onboard for a few hours without access to the latest data.
Evionica's Weight and Balance solution assures an easy way to collaborate in handling cargo operations.
The flexibility to work both online and offline grants reliability on-site when the reception might be of low quality, but just a short period of time with access to the internet (wifi in a hotel room or close to the airport terminal) is enough to synchronize with the database. In this way, the loadmaster can update the software with the latest details and continue their work back offline.
This feature can be actually used to introduce, at least to some extent, the CLC model to the cargo operations that require a loadmaster onboard. Pre-planning can be performed by some remote unit or department. It is way easier to perform some actions in the office with undisturbed access to the internet, and multiple screens available, than by the loadmaster in the field with disrupting environmental conditions and under time pressure. With Evionica's W&B software, they can set up the flight remotely, transfer the payload details, input estimated fuel data, and finally plan the initial cargo distribution.
Loadmaster can take over the flight at a convenient moment and continue exactly where they left off. He will cross-check ULDs' details & verify their serviceability, and confirm final data with the crew. At the same time, he is still responsible for generating Loading Instruction/ Loadsheet documents and supervising the loading process.
In this way, not only the loadmaster's workload can be significantly reduced, but having the flight pre-prepared he can focus on adjusting the distribution to make it ideal, and also introducing the four-eye principle makes the whole procedure more foolproof.