We are announcing our new CBT – TCAS & Cold Weather Operations
Where detailed data meets factual visuals there is Evionica Computer Based Training. Our latest developed TCAS (Traffic Collision Avoidance System) and CWO (Cold Weather Operations) e-learnings are now available.

How does nowadays high-tech pilot training look like?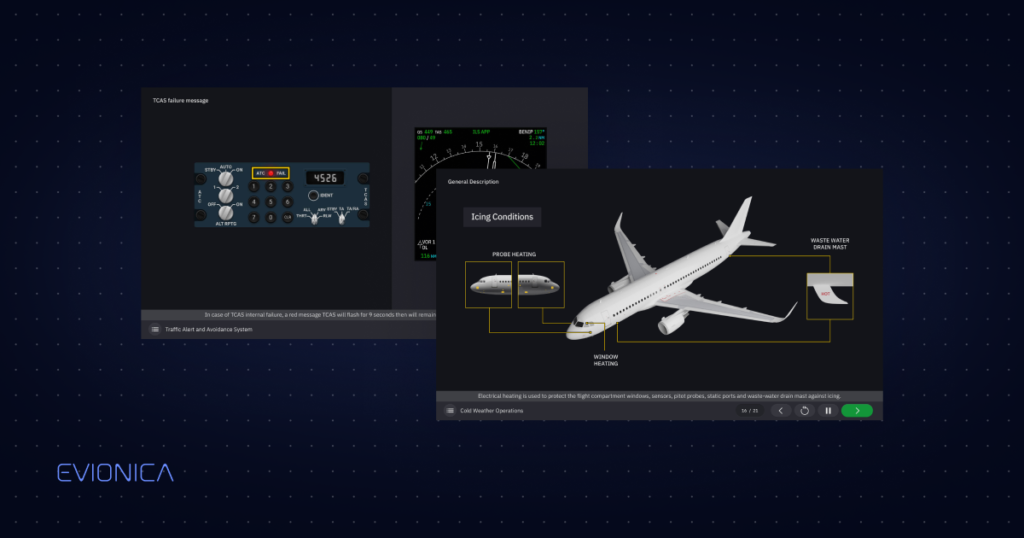 TCAS and CWO CBT have assets that make them not only handy to use but primarily efficient.
Both include natural lector voice-over which enhances information divided into small sections and allow pilot students easy to remember to content. There are also special distinguished parts with exceptionally important content.
Traffic Collision Avoidance System and Cold Weather Operations CBTs are equipped with animated quality 3D models and graphics to adapt real components and controllers.
What knowledge is covered by our TCAS and CWO units?
TCAS e-learning chapters
TCAS fundamentals

TCAS operation

Coordinated maneuvers

Cockpit indications

Aural messages

Cockpit controls

Crew operations

Airbus AP/FD TCAS capability

TCAS inhibits/limitations

TCAS I & TCAS II (v. 7.1) compatibility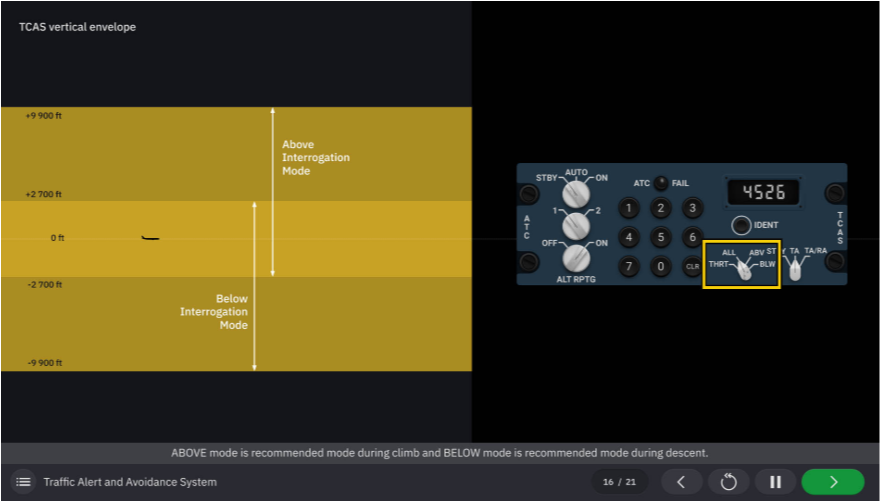 CWO e-learning chapters
General procedures

On the ground procedures during de/anti-icing process

In-flight procedures during de/anti-icing process

Communication during de/anti-icing process

SNOWTAM/MOTNE

Aircraft certification

Intermittent/continuous icing conditions

Principles of anti-ice system usage

De/anti-icing fluids

Basic characteristic of de/anti-icing fluids

Holdover time

Ground operations

Before take-off operations

Performance limitations

Runway contaminants, their characteristics, and their removal

Friction measuring devices

Regulatory limitations

Take-off and landing corrections

Crosswind limits and its effect on the aircraft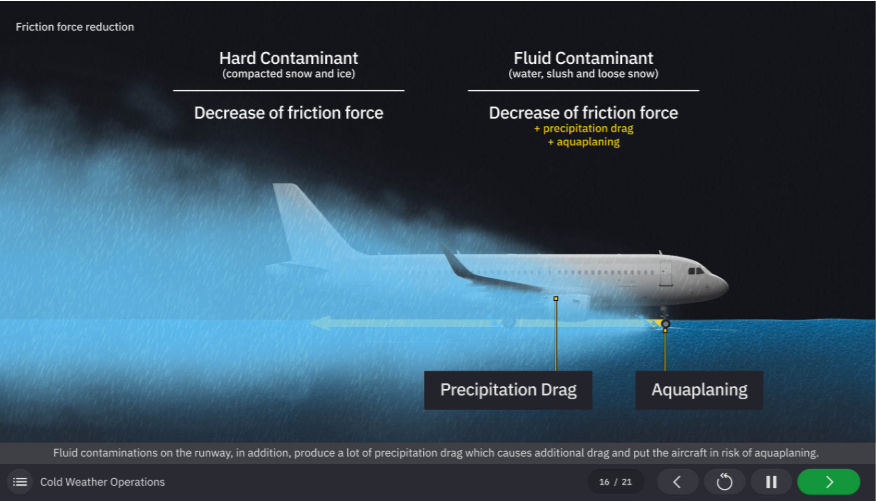 Quality & Qualifications
Both courses have 100% compliance with regulations. Content is prepared and revised by experts and covers the AFM and FCOM subjects.
Training structure is designed to clever transfer knowledge (by our own patented process) and meet e-learning didactic and technical standards. All screens are responsive so they can be used on tablets, laptops, and desktop computers. Both courses will be delivered on our LMS – Learning Management System platform where you will receive also a training record. Our CBT contains also examination but of course we can also use the question bank of your training organization.
Approximately duration of the training:
30 minutes
Training can be repeated with no limits during license activation time. To switch to high-tech pilot training now, choose your plan below:
TCAS e-learning
CWO e-learning